It wouldn't be an Aussie Christmas without these existing Australian Christmas recipes. Christmas down under is celebrated during the peak of our hot summer so it requires a certain menu to celebrate in the heat. Spice up your Christmas and enjoy summer entertaining recipes with the family. Enjoy iconic recipes from cool starters with easy and creamy potato salad recipes, to warm mains like barramundi and prawns to celebrate the best of Australian seafood and finish the festive feast with a summer pavlova. 
Cold Christmas lunch ideas

These Christmas starters will be the perfect way to kick off your Christmas festivities in the Australian summer. Serve these flavourful and tasty dishes that will be sure to impress!
Australian Christmas dinners
Celebrate with fresh Australian seafood and warm delights to satisfy your guest at the dinner table. 
Australian Christmas dessert
Complete your long lunch or Christmas dinner with these these indulgent and decadent cakes, classic favourite pavlovas or fresh summer tarts. 
Lemon Meringue Pie | Emmylou Loves
This delicious lemon méringue pie by Emmylou is perfect for entertaining. The zest of the lemon curd pairs perfectly with the buttery shortcrust, topped with layers of pillowy scorched meringue.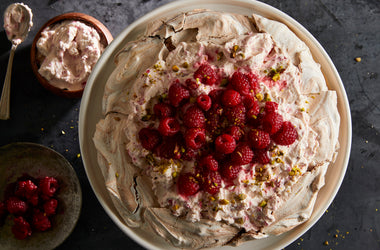 Chocolate Pistachio Pavlova with Raspberry Cream
A crispy and sweet meringue shell gives way to a marshmallow-like, interior with bitter dark chocolate swirls and toasted pistachios. A topping of whipped cream and fruit take things to the next...