find yours
Stand Mixers
Discover the ultimate culinary companion with the versatile KitchenAid Stand Mixer – winner of the prestigious title 'Best Stand Mixer' in the Finder Customer Satisfaction Awards 2023. Knead bread dough, whip eggs or cream, mix batter or make your own fresh pasta anytime with the iconic KitchenAid stand mixer. Let the KitchenAid stand mixer inspire your culinary journey, from whipping up a delicate sponge cake, an artisan sourdough or chicken tacos, the KitchenAid stand mixer is made to make. This kitchen essential effortlessly tackles various tasks, all while adding a pop of style to your countertop.
Showing 9 of 9
Showing 9 of 9
A few FAQs
Beyond its impressive capabilities, the KitchenAid stand mixer boasts a vibrant personality. With a kaleidoscope of over 20 premium colours to choose from, there is a colour to compliment every kitchen aesthetic.
Perfect for families, this machine is more than a mixer – combine it with one of our attachments and turn it into a versatile mixer. Whether you're whipping up a family-sized meatloaf or blending ingredients, the stand mixer takes the effort out of your kitchen endeavours, leaving you with more time to savour your creations.
If you're not quite sure yet which model is for you, check out some of our frequently asked questions.
What is the difference between the tilt head and bowl lift stand mixers?
The main difference between tilt-heads and bowl-lifts are how bowls are attached and accessed. The top of a tilt-head mixer hinges back so you can twist the bowl onto the base. The bowl-lift mixer features a stationary head and uses a lever to raise and lower the bowl for mixing or adding ingredients.
KitchenAid tilt-head stand mixer bowl capacities range from 3.3L to 4.8L allowing you to make up to 9 dozen cookies in one batch or a recipe for a whole family. This range includes the mini tilt-head stand mixer. Bowls can be purchased separately in additional sizes and colours. The KitchenAid tilt-head stand mixer is best suited to single households, families and everyday use.
KitchenAid bowl-lift stand mixers come with 6.9L or 7.6L bowls which are perfect for mixing from 9 to 14 dozen cookies or multiple batches of recipes at once. Additional bowls and accessories can be purchased separately. The KitchenAid Bowl-Lift is best for large batches and heavy mixtures.
Check out our stand mixer comparison page for the inclusions for each model.
How do I know which stand mixer is the right one for me?
The best stand mixer is the one that fits your cooking style, accommodates your recipes and fits your kitchen. While each type of stand mixer is a little different, tilt-head and bowl-lift mixers both use planetary action for maximum bowl coverage and feature powerful, durable motors that can handle a wide variety of recipes.
Choose a tilt-head mixer if:
You'll mostly make recipes for yourself and your household
Color is important to you; tilt-head models have over 40 options to choose from
You want to change up your decor for seasons, holidays, or just because; you can swap out 20+ bowls in different colors, patterns, and finishes
You live in an apartment, have limited counter space, or need to store your stand mixer in a pantry or cabinet; choose a mini for an even more compact option
You want to tuck your stand mixer under kitchen cabinets for storage
If you're after a tilt-head stand mixer with all the bells & whistles and a wide range of colours to choose from, the KSM195 is perfect for you.
Choose a KitchenAid Bowl-Lift Mixer if:
You often make large batches or recipes to share with a crowd
You plan to work with heavy or dense mixtures often
You have a large kitchen or somewhere to easily use and store your stand mixer
Heavy-duty performance is more important than color or bowl options
You enjoy a professional mixer look
Is there warranty on all KitchenAid stand mixers?
Yes, all of our stand mixers come with a 5 year warranty. Plus, if you're not happy with your purchase for any reason, you can simply return free of charge within 30 days of your purchase.
What is Original Planetary Mixing Action?
Original planetary mixing action describes the way in which the flat beater moves around the bowl. During operation, the beater moves around the stationary bowl, at the same time turning in the opposite direction on its own axis. Original planetary mixing action ensures thorough ingredient incorporation. The beater, dough hook or wire whisk rotates around the bowl, giving incredible bowl coverage for fast and complete mixing. Your KitchenAid Mixer will mix faster and more thoroughly than most other electric mixers. Please note it's recommended that the mixing time in most recipes be adjusted to avoid overbeating.
What is the attachment hub?
The KitchenAid Stand Mixer is more than just a mixer. The trademark hub allows for the attachment of over a dozen accessories which will turn your mixer into a pasta machine, citrus juicer, meat grinder, ice cream machine, vegetable slicer, sausage maker and so much more. View the full range of KitchenAid Stand Mixer attachments here. Enjoy your next culinary adventure!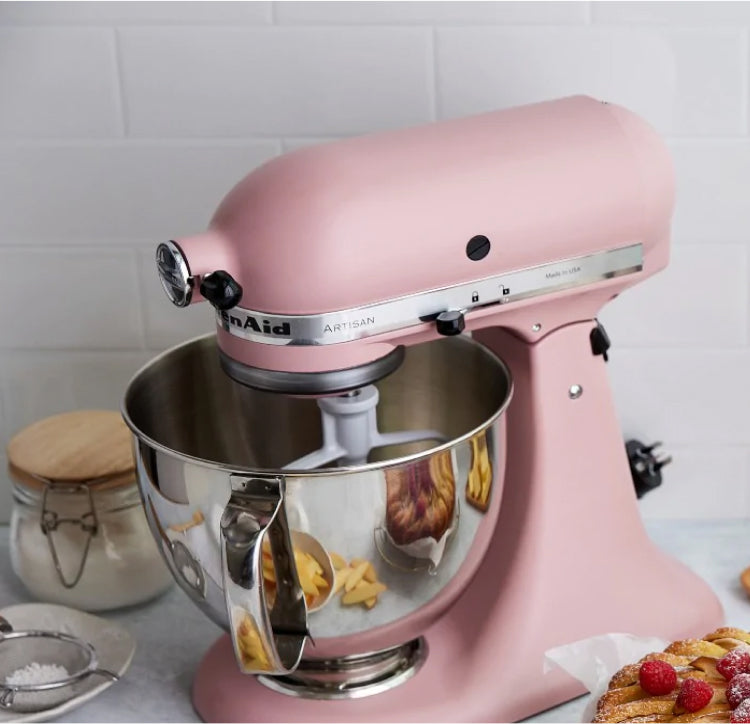 STAND MIXERS
Need more help?
Understand the ins and outs of all our stand mixers and which one is right for you.
Learn more

*Source Euromonitor International Limited; based on custom research conducted October 2022 for value sales (in USD) in 2022 through all retail channels.